The title of this post, is the same as that of an article in today's copy of The Times.
This is the first paragraph.
A four-mile bypass will be built partly in the South Downs National Park under a plan that conservation groups fear will set a precedent for development in other protected areas.
This map shows the route of the proposed bypass.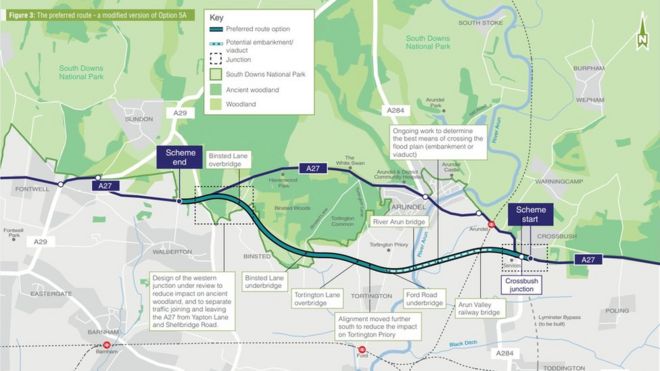 The route may be the best solution, but I believe we need to be more radical.
Overcrowded and inadequate roads exist all along the South Coast of England and in many other scenic places in the UK.
I think we need to develop a philosophy to solve the problems of roads in these crowded places.
Building a four-mile bypass at Arundel, may be needed, but we should do many other things to ease traffic congestion and improve transport capacity.
So what do I believe we should do?
We could introduce negative measures like road pricing or other restrictions, but I believe there are positive things we could do.
Broadband
You might think, what has broadband got to do with reducing the need to build roads.
I believe that as more houses and businesses get very high speed broadband, this will reduce the number of journeys taken.
Mobile Phone Coverage
I am not sure, what effect excellent mobile phone coverage will have on traffic, but it certainly will have one.
Cycling
We will all be cycling more and one of the consequences of excellent mobile phone coverage will be the growth of park-it-anywhere bike schemes like ofo and Mobike.
I think a few years time, many short distance journeys will be done by bicycle.
But expect some Luddite councils to legislate against ofo, Mobike and their ilk!
Rail
Fast forward five years and a train journey in an area like along the South Coast or in East Anglia or the West Country, will be very different.
Digital signalling will increase the capacity of all lines and mean that most stations will have at least four trains per hour (tph) in both directions.
Digital signalling will also allow more routes.
Advances in train design will mean that journeys are faster.
Ticketing will use contactless bank cards or mobile phone payment systems.
Trains will be a much more comfortable and work-friendly experience, with wi-fi, 4G and power sockets.
Track layouts will be improved and level crossings will be removed., to allow trains to operate more efficiently.
Improved information on trains and stations.
The improved dwell times of modern trains, will allow new stations to be added without degrading services.
The biggest development along the South Coast, will be an improved service between Ashford and Portsmouth/Southampton/Bournemouth.
Existing tracks will be used, with the addition of short stretches of new track at possibly Brighton and Eastbourne.
Line speeds will be at least 100 mph.
Most stations will have a Turn-Up-And-Go four tph service.
There will also be other improved routes to and from London and Gatwick Airport for many of the coastal towns.
This improvement in rail services will be impossible with a rail company like Govia Thameslink Railway providing services.
They are more conservative, than the RMT.
They look after their core commuter traffic, at the expense of other passengers.
The franchise is just too big.
However, digital signalling will allow Open Access Operators to compete and create new services geared to customers needs.
Thameslink
The current Thameslink service will have the following characteristics, when it is completed in December 2019.
Twenty-four tph through London.
A well-designed track layout at Bermondsey that unlocks London's North-South railway.
Services at a level of at least two tph to many stations in Kent, Surrey and Sussex.
A set of uncomfortable Class 700 trains, designed by a moronic civil servant in the Department of Transport.
The major Thameslink upgrade was designed totally without vision and charisma.
However, the basics and possibilities are there to do the following.
Increase the frequency to thirty tph through the Central London core.
Increase the frequency on the Brighton Main Line through Gatwick, substantially, by using digital signalling.
Rebuild the trains, with what passengers need.
Add extra services all along the South Coast.
Develop a massive rail-air interchange station at Gatwick.
I believe that Gatwick could develop into the busiest station in the UK.
I also think, that anybody going between London and the South Coast, will have a frequency of at least four tph from their local station, using either a direct service or a single change at Gatwick.
Freight
This Google Map shows the A27 through Arundel.
Note the number of trucks on the roads.
Where are they going?
The bypass would get the trucks out of Arundel, but would it just encourage more to use the South Coast route as a bypass for the crowded M25?
We need a proper philosophy for freight in this country.
As much freight as possible should be by rail.
Trucks should be for short distance or specialist needs only.
Does Southampton Docks have good enough access to the UK rail network?
I think not, especially as it would be very difficult to increase freight traffic through Southampton Central station, due to the restriction of the double-track Southampton Tunnel.
Conclusion
There is a lot to do, before we spend £250million n a bypass.
Charities

Useful Links

Top Posts

WordPress Admin

Join 1,893 other followers